---
Beaked Yucca Yucca rostrata

Yucca rostrata is one of the hardiest (and best looking) trunked Yuccas. There are rostratas all over Oklahoma that survived the 1980s undamaged. With excellent drainage and careful siting it will grow well into zone 6 and sometimes colder. We are shipping field-grown plants with about a foot of clear trunk. They will have limited roots and do best if potted up into a seven gallon container of cactus mix for a season before planting out, but we have often been successful just digging a hole and dropping them in here in central Oklahoma. Just make sure they have full sun and are not in a site where water will accumulate during the winter. These usually have between 8 and 18 inches of trunk. Due to their size and weight, Yuccas may be sent by Parcel Post or UPS.

SOLD OUT














---
Super Thompson's Yucca Yucca thompsoniana x rostrata

A naturally occuring intergrade of Y. rostrata and Y. thompsoniana. They are more cold hardy than pure rostrata but with a larger, fuller head than thompsoniana. They are also more likely to grow multiple heads than pure Y. rostrata

Medium Super Thompson, 6-10" trunk S100


Small Super Thompson, 3-6" trunk $50.00



---
---
---
---
Variegated Agave Agave funkiana (?) Agave lophantha (?)

This is one of hardiest Agaves of all the ones we have tested here in central Oklahoma (and believe me, I have killed quite a few over the years). The original plant was purchased from a roadside vendor in East Texas and was labeled A. funkiana. It looks very similar to A. lophantha (which is native much farther North) so I don't know for sure what it is. What I do know is that it survives single digit temperatures, snow, ice storms and wet soil--even small offsets in above ground one-gallon pots aren't killed by bitter cold. Shipped as small offsets with some roots.

$15.00


Agave funkiana seeds. They germinate quickly in damp cactus mix at 80-85 degrees.

25 seeds $6.00
---
Quartz Mountain Live Oak Quercus fusiformis 'Quartz Mountain'

From the harsh environs of western Oklahoma near the dividing line between zones 6 and 7 comes this most northwesterly selection of the evergreen Live Oak. They are quite cold-hardy and drought tolerant when established. We are offering small plants, about one to three feet tall.

$20
---
---
Mescal

Agave neomexicana


A slightly less expensive alternative to

A. havardiana

, but still very hardy. Some sources say it is good down to -20 F, with proper drainage.

6-10" Specimen $45.00

20"+ Specimen $125.00


---
---
---
---
Variegated Giant Reed Arundo donax 'variegata'

Tall (10-20') grass, unrelated to, but sometimes mistaken for bamboo. In our climate, the tops usually die back each winter, but it always returns bigger and better from the roots the following year. In warmer climes, the top will survive, but will look better if it is mowed down and allowed to regrow. The variegation is great in the spring and early summer, but fades out to mostly green by late summer and fall. This remarkable plant is at once a xeriphyte, mesophyte and a hydrophyte, meaning that (once established) it can survive with almost no water, with regular rainfall or watering, or even with roots submerged as a pond plant! Check your local laws, as Arundo can be very invasive in riparian habitats and is a nuisance in some areas. Sold as leafed-out, rooted cuttings.

$6.00
---
---
Sabal minor 'McCurtain'
The only palm native to Oklahoma, it is nearly as hardy as the Needle Palm, but much faster growing. We are shipping one gallon plants with strap leaves.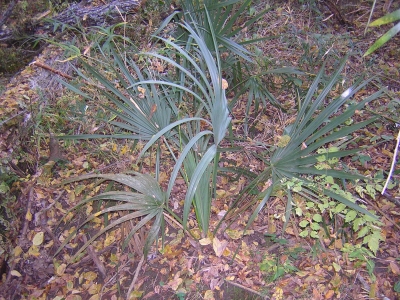 Sabal minor 'McCurtain' 1 gal. $30.00
Sabal birmingham

This is it, the legendary palm that survived in Birmingham, Alabama for decades before being moved and succumbing. The Tulsa specimen (parent of the ones we're selling, pictured here) received only 20% leaf damage in 1996 when the official temperature dropped to eleven degrees below zero! The plants we are offering are one to two gallon specimens and do best if repotted into larger containers and kept in bright diffuse light, high heat and high humidity (a greenhouse is ideal) to recover before being planted into the landscape. If you must put them in the ground, your bestchance for success is to cut off all but one or two center leaves to minimize water loss until the roots can recover. Better yet, if you can drive to Oklahoma City, they are cheaper and you can get one in the pot (not bare-root) and plant it right away with less risk. But, since not everyone can drive here, we offer these for you to try.

1-2 gallon $40.00 each
---
Sabal louisiana 'Stiff-leaf'

Currently in one-gallon containers, most with strap leaves. Nice plants with good root systems.

$30.00 each

SOLD OUT
---
---
SEED SALES

Poncirus trifoliata "Flying Dragon" Hardy Orange, Trifoliate Orange
The hardiest of all Citrus/Citrus relatives, primarily grown as a commercial rootstock, it makes an interesting specimen plant or hedge itself. The "Flying Dragon" cultivar has curved thorns. Also a good barrier plant, due to its vicious thorns. Don't try eating the attractive miniature oranges, though. Poncirus seeds will not be sent to California, Texas, Florida or any other Citrus-producing state. We also have the standard, straight-thorned variety. If you prefer it, make a note with your order.
10-count seeds, $2.50
Call or email for availability
---

Japanese/Chinese Parasol Tree Firmiana simplex
A fast-growing, very tropical-looking deciduous tree that has done well in our zone 7 climate. Seeds germinate easily.

25 seeds $6.00
---
Seeds of Premium Palm Specimens


Rhapidophyllum hystrix Needle Palm


There are no refunds, but if mine don't germinate" at least 20%

. I will replace any seeds ordered with fresh ones next winter (assuming we have a good crop ). Save your invoice or packing list, just in case. Germination is trickier than with Sabal, and percentages will be lower (20-60 %, on average). These are hard-to-find, even from field-collected sources, much less cultivated plants, and are priced accordingly.

$0.50 each
---
Sabal minor 'McCurtain' We are offering a few surplus seeds of one of the most sought-after ecotypes of Sabal minor. McCurtain County, Oklahoma is the most northwesterly population of any Sabal palm. The native populations have been as low as -11 degrees in recent history and cultivated plants have survived more than 20 degrees below zero. They seem at least as hardy as the legendary northeast Texas plants from nearly 150 miles farther south, and tend to grow faster and larger. Due to the limited supply, there is a limit of 20 seeds per customer. Also, if you have ordered seeds from us before, you know we usually give a generous overcount. You should get a few extra 'McCurtains' with your order, but please don't be upset if you don't get as many extras as with most other seed orders.


Sabal minor 'McCurtain' 10 count seeds $4.00
---
The seeds offered below are collected from specimens that are the best of the best. They are far above average in hardiness and or size. Also included are hard to find rare ecotypes.
All seeds are pre-cleaned of fruit, with the exception of some of the Needle Palm seeds. Shipping and handling charges in the USA are $5.00 for your entire order, regardless of how many items you have in your cart.

---
---
Premium Palm #2
(zone 7 and warmer only)

A huge Sabal louisiana that was planted outside as a seedling in 1990. This palm has been very robust growing developing a short trunk. This specimen survived the -3*f freeze of 1996 with 40% leaf damage so I do not recomend it in areas colder than zone 7, but if you want a fast growing and trunking Sabal louisiana for zone 7 and warmer this palm is a great choice.

25 seeds - \\$6.00

SOLD OUT
---
---
Premium Palm #4
(zone 6a in warm microclimate)

These palms are Sabal minor that were collected from northeast Texas just south of Carthage around 1987. While not the largest palm they make up for size in cold hardiness. These two specimens survived a record low in 1989 of -8*f undamaged. I had specimens of Sabal minor collected from Florida that recieved 80% leaf damage at -8*f but the northeast Texas ecotype were untouched. Small seed grown offspring of these two palms were untouched at -3*f in 1996. If you are in zone 6 this is my recommendation for a palm that may survive longterm in your area.

25 seeds - \\$6.00

50 seeds - \\$10.00
---

Premium Palm #5
(zone 6a in warm microclimate)

To the right is a picture of the native Sabal minor population near zone 7b Warren Arkansas. I have 4 cultivated specimens of this ecotype that produce many seeds every year. This ecotype of Sabal minor is quite hardy and should survive well into zone 6.

25 seeds - \\$6.00



---
Premium Palm #6
Sabal louisiana

(zone 6b in a warm microclimate)

This plant was installed in 1992 as a one gallon (along with two others), then they were all moved to a new yard in 1994. It showed little transplant shock and has since grown 2-3 times as fast as the others.


25 seeds $6.00


50 seeds - \\$10.00
---
Cheap, Uncleaned Sabal louisiana seeds
These are from average plants growing here in Oklahoma City, still on the stalks and with the fruit intact. Good for growing a small forest of palms at a low cost. You will get faster germination if you remove the fruit (but they seem to do OK in the wild without any help). You'll receive 1/2 pound of seed and stalk. The exact number of seeds will vary with size, moisture content, stem thickness etc. but will usually be around 500 to 700 seeds total. Available while quantities last.
Sabal louisiana seeds on stalk, 1/2 lb. $20

SOLD OUT
---

Accessories

Heat Tape--Sabal seeds germinate best at about 85 degrees F. These ultra-thin tapes use a flexible element sandwiched between two sheets of Mylar. Place under your seed beds for optimum germination rates. Plugs directly into 110v outlet. Available in 4" and 10" widths.

4"x12" \\$13.00
4"x24" \\$17.00
4"x36" \\$21.00
4"x48" \\$25.00

4"x96" \\$41.00



---
10"x12" \\$15.00
10"x24" \\$20.00
10"x36" \\$25.00
10"x48" \\$30.00

10"x96" \\$50.00


For custom lengths, call or E-mail for a quote.
---
Thermometers--An inexpensive but accurate glass thermometer for measuring the exact soil temperature in your seed beds.

Thermometer-- \\$3.00
---
Any questions please contact bryan@alligatoralley.com
Phone 405-949-2553
Alligator Alley
4636 NW 10th Street
Oklahoma City, OK 73127
405-949-2553

Email:Bryan@AlligatorAlley.com